Now it is for real, I´m secured my place at Val Garland school of Make-up for the summer. This would be an awsome opportunity to learn from one of the best in the Makeup industry. Inside scoop from the runways, vouge, photographer, makeup line and so much more. I have to respond to a brief with makeup, photo and facecharts to validation once a week or so. So I need a model and maybe an photagrapher to take awsome picture to use this summer.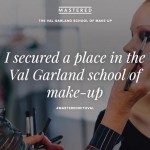 If you are intrested to be a model for me a few times it would be really great. You must feel secure in front of the camera and comfortable in that I will use the pictures to send in for validation to Val Garland.  And if you are a photographer how would like to take portrait of perhaps Avant Garde makeup feel free to contact me. You have to know what you are doing in this not just play around.
I´m sorry sometims my English sucks, so please overcome you´re frustrations about that 😉  Feel free to join the ride with me on this amazing journey how starts Maj 15. I would love to have you on board !